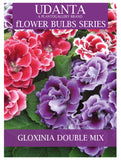 Guaranteed Fitment

Always the correct part

In-House Experts

We know our products

Secured Pack

Easy Haldel Transporting

All India Delivery

Free shipping on all orders
Plantogallery Gloxonia Flower Bulbs Mix Colour Pack of 10
ABOUT GLOXONIA flower bulb Name – Sinningia speciosaFamily – GesneriaceaeType – perennial, indoor plant Height – 8 to 12 inches (20 to 30 cm)Exposure – part sunSoil – rich enough, soil mix Foliage – evergreenBlooming –...
customers are viewing this product

ABOUT GLOXONIA flower bulb
Name – Sinningia speciosa
Family – Gesneriaceae
Type – perennial, indoor plant
Height – 8 to 12 inches (20 to 30 cm)
Exposure – part sun
Soil – rich enough, soil mix
Foliage – evergreen
Blooming – May to October
FEATURES-
It bodes well to

 

water regularly

 

but not too much.
Also

 

mist the leaves

 

often enough to recreate the proper moisture level.
At the end of the blooming season (October), slowly reduce watering and stop it completely when the leaves have died.
Let the plant

 

hibernate

 

by placing it in a darker, cooler room (about 50 to 60°F (10 to 15°C).
Come

 

February/March, start watering again and place your plant in a more luminous, warmer room, 65 to 72°F (18 to 22°C).
As

 

early as May

 

you can even bring it outdoors, still not in direct sun but all the while maintaining proper light.
DESCRIPTION-
In the early 19th century, in 1815, this flower was introduced in England under the horticultural name 
Gloxinia.
 However, research showed that this "Florist's Gloxinia" is only distantly related to the actual 
Gloxinia
 family (or genus).
This very beautiful perennial, native to Brazil, will grant you an abundant flowering during a large portion of the year.
Caring for it is relatively easy if the guidelines mentioned above are properly followed.