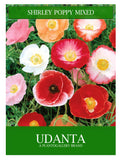 Guaranteed Fitment

Always the correct part

In-House Experts

We know our products

Secured Pack

Easy Haldel Transporting

All India Delivery

Free shipping on all orders
Plantogallery Shirley Poppy Mixed Color Flower Seeds
Product Type: Flower Seeds Color Type: Mixed Suitable In: outdoor Germination Rate: 70% to 90% Physical Purity: 98% Sowing Time:...
customers are viewing this product

Product Type: Flower Seeds
Color Type: Mixed
Suitable In: outdoor
Germination Rate: 70% to 90%
Physical Purity: 98%
Sowing Time: March To May
Flowering Time: June To September
Package Contain                      
Pack Of 30 To 50 Seeds
Germination Guide
Features
Point 1: The poppy is the enduring symbol of remembrance of the First World War.
Point 2: The Shirley poppy was created from 1880 onwards by the Reverend William Wilks
Point 3: Shirley Poppies are true harbingers of spring.
Instruction And User Manual
How To Germination Seeds: Read more....
Caring Tips: Read more....
Preparation Of Soil: Read more....
Other Details
Weight: 10gm
Dimension: 20x15x1
SKU: PL-WFSD-09
Note: Please Carefully Read Our Germination And Caring Tips.
Common Name: Corn Poppy, Field Poppy, Shirley Poppy.
Scientific Name: Papaver rhoeas
Family: Poppies
About Products
Description: shirley Poppies are true harbingers of spring. Bloom is early when their bright, cheerful faces are most welcome - other annual plants are weeks away from flowering. Bloom season can be extended through summer when seed is sown successively. Sear fresh-cut stems with a match flame, to prepare Shirley poppies for your vase. Super-showy and easy to naturalize and grow, our gardens would not be complete without Shirley poppies. Plants reach 18 to 36 in. tall.Shirley poppies are the easiest to grow. One plant will produce glorious flower heads for up to 6 weeks, and as each blossom fades it leaves behind the most beautiful miniature seed pods that make wonderful additions to boutonnieres and dried creations.Shirley poppies resent transplanting. Direct sow into the garden after all danger of frost has passed. Can be started indoors, just take care when planting out not to disturb the roots too much.The flowers are short lived, lasting 3-4 days if stem ends are seared 7-10 seconds. Perfect for personal use or event work. Harvest when flowers are just opening.
Shop More
Links: plants,
Links: soil & fertilizers, 
Links:  gardening tools