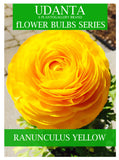 Guaranteed Fitment

Always the correct part

In-House Experts

We know our products

Secured Pack

Easy Haldel Transporting

All India Delivery

Free shipping on all orders
Plantogallery Ranunculus Double Yellow Flower Hybrid Important Flower Bulbs For Planting - Pack of 5 Bulbs
About Product:  Ranunculus Double Yellow Symbolizing radiant charm, this native-to-Asia flower is beloved for its showy, ruffled petals that blossom...
customers are viewing this product

About Product:  Ranunculus Double Yellow
Symbolizing radiant charm, this native-to-Asia flower is beloved for its showy, ruffled petals that blossom in a near-perfect circle. Thanks to its natural beauty, the Ranunculus — yellow, in particular — has become one of the hottest wedding flowers. Ranunculus are classic wedding flowers, with cup-shaped blooms and layers of delicate petals unfurling from a tight center. The paper-thin petals are pure yellow, and complemented by a lime-green "eye" in the center of the bloom.
Bulbs Planting Process
Prepare the garden bed using a garden fork or tiller to loosen the soil to a depth of 8 to 10 inches before applying Bulbs. Use 20% cocopeat / 30% vermicompost / 40% soil/ 10% sand of good germination. And mix well. Bulbs should be placed at least 3 to 4 inches deep. Keep in mind while applying bulbs – the larger the size of the bulb, the deeper the hole and set the bulb in it. When the bulbs plant becomes slightly bigger, then they can add more soil. Keep in mind that the pointed end of the bulbs should be towards the top. And then take some soil and cover the bulb. Surrey bulbs will grow in a few days. Immediately after applying the bulbs, a little water is required. So that the bulbs set well. 
Plants Caring
All bulbs require a low of water. Adding more water causes fungus in the bulbs, which causes the bulb to deteriorate and the bulb does not sprout. Then until the bulb has sprouting, water should be applied 1 time in 1 week in the bulbs. After that you can add water 2 to 3 times a week. (According to your pot or planter, no plants should be watered until the soil is completely dry.) And plants are 4 to 5 inches long, you should put vermicompost every 20 to 25 days on 50 to 100 grams per square foot. When the flowering time comes to the plants, you should use fertilizer (NPK) once a month, which leads to a good growth of the flowers.
Special Features
Flowering: 35 to 50 days after sowing.
Best germination rate 100% guaranteed.
Suitable: Fully sun/shading loving and any place
Soil and care – normal soil, with no special care.
5 bulbs should be put in a 12 to 14 inch pot.
Ranunculus plant height approx. 8 to 18 inches.
The Ranunculus flower is used as a cut-flower/ Its flower not spoil 20 to 30 days.
Ranunculus are excellent house plants, best for beds, borders, bouquet and flower arrangements.