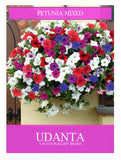 Guaranteed Fitment

Always the correct part

In-House Experts

We know our products

Secured Pack

Easy Haldel Transporting

All India Delivery

Free shipping on all orders
Plantogallery Petunia Mixed Color Flower Seeds
Product Type: Flower Seeds Color Type: mixed Suitable In: outdoor Germination Rate: 70% to 90% Physical Purity: 98% Sowing Time:...
customers are viewing this product

Product Type: Flower Seeds
Color Type: mixed
Suitable In: outdoor
Germination Rate: 70% to 90%
Physical Purity: 98%
Sowing Time: August To December
Flowering Time: October To March
Package Contain                      
Features
Point 1: Petunia is a genus in the family Solanaceae
Point 2: This Petunia mix is planted in full sun to maximize flowering.
Point 3: Petunias need at least 5 or 6 hours of good sunlight;
Instruction And User Manual
How To Germination Seeds: Read more....
Caring Tips: Read more....
Preparation Of Soil: Read more....
Other Details
Weight: 10gm
Dimension: 20x15x1
SKU: PL-WFSD-12
Note: Please Carefully Read Our Germination And Caring Tips.
Common Name: Petunia
Scientific Name: Petunia
Family: Nightshade
About Products
Description: Pretty petunias are one of the most popular flowers because of their exceptional blooms and long flowering period. These colorful annuals can really add pop to a front lawn and are often used in borders, containers, hanging baskets or even as a seasonal ground cover.  Height can vary from 6 inches to 18 inches. Spread can be from 18 inches to 4 feet.  if you are going to grow petunias from seed, start the seeds indoors 8 to 10 weeks before your last spring frost date.Plant young petunias outdoors after your last spring frost date, but keep a close eye on the weather forecast and protect young plants from late frosts. They are quite versatile, growing well in different types of soil as long as the soil drains well and doesn't stay wet.soil should be moderately fertile to promote the best growth. Amend poor soil with compost prior to planting.Petunia seeds are very small (dust-like!) and need lots of light in order to germinate.When the plants have three leaves, plant them outside.Space the plants about 1 foot apart if you're planting petunias in containrs, use a container potting mix that will drain well.

Shop More
Links: plants,
Links: soil & fertilizers, 
Links:  gardening tools