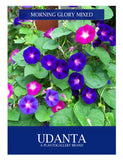 Guaranteed Fitment

Always the correct part

In-House Experts

We know our products

Secured Pack

Easy Haldel Transporting

All India Delivery

Free shipping on all orders
Plantogallery Morning Glory Flower Seeds
Product Type: Flower Seeds Color Type: mixed Suitable In: outdoor Germination Rate: 70% to 90% Physical Purity: 98% Sowing Time:...
customers are viewing this product

Product Type: Flower Seeds
Color Type: mixed
Suitable In: outdoor
Germination Rate: 70% to 90%
Physical Purity: 98%
Sowing Time: April To August
Flowering Time: June To September
Package Contain                      
Features
Point 1: Morning Glory Is The Common Name For Over 1,000 Species Of Flowering Plants In The Family Convolvulaceae
Point 2: Most Morning Glory Flower Unravel Into Full Bloom In The Early Morning.
Point 3: The Flowers Usually Start To Fade A Few Hours Before The "Petals" Start Showing Visible Curling.
Instruction And User Manual
How To Germination Seeds: Read more....
Caring Tips: Read more....
Preparation Of Soil: Read more....
Other Details
Weight: 10gm
Dimension: 20x15x1
SKU: PL-WFSD-14
Note: Please Carefully Read Our Germination And Caring Tips.
Common Name: Ipomoea purpurea
Scientific Name: Ipomoea
Family: Morning-glories
About Products
Description: Morning glories bloom from early summer to the first frost of fall. With slender stems and heart-shaped leaves, their trumpet-shaped flowers come in colors of pink, purple-blue, magenta, or white. Their fragrant, colorful flowers are not only attractive to our eyes but also beloved by butterflies and hummingbirds. Ancient Mesoamerican civilizations used the morning glory species Ipomoea alba to convert the latex from the Castilla elastica tree and also the guayule plant to produce bouncing rubber balls.All morning glory plants produce attractive funnel-shaped blossoms of various shades like white, red, blue, purple, and yellow with heart-shaped leaves. Blooming usually occurs anywhere from May through September, opening in the morning and closing in the afternoon. most types of annuls though in some warmer regions they will come back yearly or may re-seed themselves in almost any zone they grow in.




Links: plants,
Links: soil & fertilizers, 
Links:  gardening tools