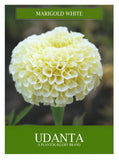 Guaranteed Fitment

Always the correct part

In-House Experts

We know our products

Secured Pack

Easy Haldel Transporting

All India Delivery

Free shipping on all orders
Plantogallery I Marigold White Color Flower Seeds
Product Type: Flower Seeds Color Type: White Suitable In: outdoor Germination Rate: 70% to 90% Physical Purity: 98% Sowing Time:...
customers are viewing this product

Product Type: Flower Seeds
Color Type: White
Suitable In: outdoor
Germination Rate: 70% to 90%
Physical Purity: 98%
Sowing Time: June To January
Flowering Time: September To March
Package Contain                      
Features
Point 1: Marigolds are sure to become the star attraction of your flower beds!
Point 2: They germinate vigorously, are easy to grow, and bloom non-stop through the heat of summer until frost.
Point 3:  Though they grow in almost any soil, marigolds thrive in moderately fertile, well-drained soil.
Instruction And User Manual
How To Germination Seeds: Read more....
Caring Tips: Read more....
Preparation Of Soil: Read more....
Other Details
Weight: 10gm
Dimension: 20x15x1
SKU: PL-WFSD-45
Note: Please Carefully Read Our Germination And Caring Tips.
Common Name:Marigold Jafri, genda
Scientific Name: Marigold
Family: Asteraceae
About Products
Description:
Marigold white In India marigold is one of the most commonly grown flowers and used extensively on religious and social functions in different forms. Flowers are sold in the market as loose or as garlands.This plant was used in ancient Greek, Roman, Arabic and Indian cultures as a medicinal herb as well as a dye for fabrics, foods and cosmetics.
They can be easily cultivated, are widely adaptable to varying soils and climatic conditions and have a good flowering duration. This bushy plant with around 20 to 30 species, have a long flowering period and the colours range from orange, yellow, gold, cream to apricot. They are very much used in making garlands. Make excellent beds and pot decorations the whitest, most free-flowering white marigold ever. This is without a doubt a plant that must be grown in your garden. Incredibly free-flowering, you will have ample blossoms to brighten the garden as well as grace fresh arrangements.
Shop More
Links: plants,
Links: soil & fertilizers, 
Links:  gardening tools