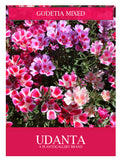 Guaranteed Fitment

Always the correct part

In-House Experts

We know our products

Secured Pack

Easy Haldel Transporting

All India Delivery

Free shipping on all orders
Plantogallery I Godetia Mixed Color Flower Seeds
Product Type: Flower Seeds Color Type: mixed Suitable In: outdoor Germination Rate: 70% to 85% Physical Purity: 98% Sowing Time:...
customers are viewing this product

Product Type: Flower Seeds
Color Type: mixed
Suitable In: outdoor
Germination Rate: 70% to 85%
Physical Purity: 98%
Sowing Time: August To November
Flowering Time: September To December
Package Contain                      
Features
Point 1:  T The scientific name used to be Godetia amoena, but it has since been changed to Clarkia amoena.
Point 2: It is a species of the Clarkia genus, named after William Clark of the famous Lewis and Clark expedition.
Point 3:  This particular species is frequently also called the farewell-to-spring flower.
Instruction And User Manual
How To Germination Seeds: Read more....
Caring Tips: Read more....
Preparation Of Soil: Read more....
Other Details
Weight: 10gm
Dimension: 20x15x1
SKU: PL-WFSD-24
Note: Please Carefully Read Our Germination And Caring Tips.
Common Name: The Satin Flower, Godetia grandiflora, Godetia amoena, or Clarkia amoena
Scientific Name: Clarkia amoena
Family: Onagraceae
About Products
Description: Godetia is easy to grow. As wildflowers, they require little care. In the home garden, mulch around them to help retain soil moisture, and to keep the weeds down. Flowers bloom early to mid summer.
Shop More
Links: plants,
Links: soil & fertilizers, 
Links:  gardening tools