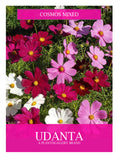 Guaranteed Fitment

Always the correct part

In-House Experts

We know our products

Secured Pack

Easy Haldel Transporting

All India Delivery

Free shipping on all orders
Plantogallery I Cosmos Mixed Color Flower Seeds
Product Type: Flower Seeds Color Type: mixed Suitable In: outdoor Germination Rate: 70% to 85% Physical Purity: 98% Sowing Time:...
customers are viewing this product

Product Type: Flower Seeds
Color Type: mixed
Suitable In: outdoor
Germination Rate: 70% to 85%
Physical Purity: 98%
Sowing Time: June To September
Flowering Time: August To December
Package Contain                      
Features
Point 1: Cosmos is one of the easiest flowers to grow from seed that is directly sown in the garden bed.
Point 2: It is recommended that you only soak most seeds for 12 to 24 hours and no more than 48 hours.
Point 3: The benefit of soaking seeds before planting is that your germination time will be reduced, which means you can have happy, growing plants faster.
Instruction And User Manual
How To Germination Seeds: Read more....
Caring Tips: Read more....
Preparation Of Soil: Read more....
Other Details
Weight: 10gm
Dimension: 20x15x1
SKU: PL-WFSD-31
Note: Please Carefully Read Our Germination And Caring Tips.
Common Name: Mexican aster, Cosmos bipinnatus
Scientific Name: Cosmos bipinnatus
Family: Asteraceae
About Products
Description: Cosmos are freely flowering annual plants that are easy to grow by sprinkling some seeds in the garden after any danger of frost has passed. These quintessential cottage garden flowers reach full maturity in about two months. This plant tends to be slower to germinate, but it blooms quickly after that and continues to flower through the fall. The flowers sit atop long slender stems and form a cloud of color that looks attractive throughout the summer and attracts bees ,butterfli and birds to your garden.Cosmos flowers look a lot like daisies. They come in a broad range of colors, with more cultivars developed every yearThe leaves grow opposite on stems and are deeply lobed, pinnate, or bipinnate and feather-looking depending on the type. If you plan to have cosmos and live in the southern U.S., consider keeping them as potted plants since they tend to be invasive there. Growing cosmos is a simple process and subsequent cosmos flower care is just as easy, especially when you use the following articles packed with information.
Shop More
Links: plants,
Links: soil & fertilizers, 
Links:  gardening tools