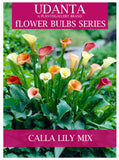 Guaranteed Fitment

Always the correct part

In-House Experts

We know our products

Secured Pack

Easy Haldel Transporting

All India Delivery

Free shipping on all orders
Plantogallery I Calla Lily Mixed "Zantedeschia" Imported Flower Bulbs Pack Of 10
About Calla Lily  Buy Calla lily exotic imported variety by Original Product only on Live Green. calla lily flower creates...
customers are viewing this product

About Calla Lily 
Buy Calla lily exotic imported variety by Original Product only on Live Green. calla lily flower creates a flurry of colorful excitement in the garden. Alluring, dark-green foliage speckled with white. Exceptionally showy blooms are popular as cut flowers in flower arrangements and bouquets. The Calla lily flower is one of the longest-lasting. In warm areas, calla lilies grow well in full sun or partial shade. In cooler areas, they grow best in full sun. Calla lily bulbs should be planted 2 to 4" deep and about 6" apart.
Bulbs Planting Process Of Calla Lily
Prepare the garden bed using a garden fork or tiller to loosen the soil to a depth of 8 to 10 inches before applying Bulbs. Use 20% Cocopeat / 30% Vermicompost / 40% Soil/ 10% Sand of good germination. And mix well. Bulbs should be placed at least 3 to 4 inches deep. Keep in mind while applying bulbs – the larger the size of the bulb, the deeper the hole and set the bulb in it. When the bulbs plant becomes slightly bigger, then they can add more soil. Keep in mind that the pointed end of the bulbs should be towards the top. And then take some soil and cover the bulb. Surrey bulbs will grow in a few days. Immediately after applying the bulbs, a little water is required. So that the bulbs are set well.
All bulbs require a low of water. Adding more water causes fungus in the bulbs, which causes the bulb to deteriorate and the bulb does not to sprout. Then until the bulb has sprouted, water should be applied 1 time in 1 week in the bulbs. After that, you can add water 2 to 3 times a week. (According to your pot or planter, no plants should be watered until the soil is completely dry.) And plants are 4 to 5 inches long, you should put vermicompost every 20 to 25 days on 50 to 100 grams per square foot. When the flowering time comes to the plants, you should use fertilizer (NPK) once a month, which leads to good growth of the flowers.
Special Features of Calla Lily
Easy to grow any gardening pots, planter, and balcony border.
2-3 bulbs should be put in a 12 to 14-inch pot.
Blooming time – approx. 55 to 60 days after sowing.
Calla Lily growing temperature (15°C – 35°C) Should be up to.
Calla Lily plant height approx. 15 to 20 inches.
Soil and care – normal soil, with no special care.
Suitable: Full sun/Shading loving.
 Calla Lily Imported Bulbs Big
Calla Lily is a charming tuberous perennial boasting attractive cascades of extra-large, 2-5 in. across (5-12 cm), fully double.
Package contains – 1 bulb.
Fresh bulbs are of high quality.
Flowering: 55 to 60 days after sowing.
Plant height approx.: 15 to 20 inches.
Note: The image is for reference purposes only. The actual product may vary in shape or appearance based on climate, age, height, etc.