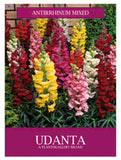 Guaranteed Fitment

Always the correct part

In-House Experts

We know our products

Secured Pack

Easy Haldel Transporting

All India Delivery

Free shipping on all orders
Plantogallery Antirrhinum - Dog Flower Mixed Color Flower Seeds
Product Type: Flower Seeds Color Type: mixed Suitable In: outdoor Germination Rate: 70% to 85% Physical Purity: 98% Sowing Time:...
customers are viewing this product

Product Type: Flower Seeds
Color Type: mixed
Suitable In: outdoor
Germination Rate: 70% to 85%
Physical Purity: 98%
Sowing Time: August To May
Flowering Time: October To July
Package Contain                      
Features
Point 1: The flower which goes by the name of dog-flower in India, is known as snapdragon in other places.
Point 2: Dog flowers, like many garden flowers, have a long history of enjoyment.
Point 3: Snapdragons need moist soil to grow—routine watering is crucial for the plants as they begin to establish their roots.
Instruction And User Manual
How To Germination Seeds: Read more....
Caring Tips: Read more....
Preparation Of Soil: Read more....
Other Details
Weight: 10gm
Dimension: 20x15x1
SKU: PL-WFSD-27
Note: Please Carefully Read Our Germination And Caring Tips.
Common Name: Snapdragon, Dog Flower
Scientific Name: Antirrhinum Snapdragon Flower
Family: Plantaginaceae / Veronicaceae
About Products
Description: Snapdragons will produce more blooms if you use a process known as "deadheading," in which you remove old blooms to encourage new growth.
Shop More
Links: plants,
Links: soil & fertilizers, 
Links:  gardening tools