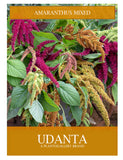 Guaranteed Fitment

Always the correct part

In-House Experts

We know our products

Secured Pack

Easy Haldel Transporting

All India Delivery

Free shipping on all orders
Plantogallery I Amaranth Flower Seeds For Home Gardening
About Amaranth Flower Seed This Amaranth has shade of Mixed colours, and these flowers will blossom 6 – 8 weeks after sowing...
customers are viewing this product

About Amaranth Flower Seed
This Amaranth has shade of Mixed colours, and these flowers will blossom 6 – 8 weeks after sowing the flower seeds. This shorter growing variety features a wide range of brilliant colors and double 1 inch round pompon-like blooms.
Package Contain 

| | |
| --- | --- |
| Seeds per packet: | 30 to 40 seeds in one packet  |
| Blooming: | 40 to 50 days after sowing  |
| Flower Color: | Mixed color  |
| Difficulty Level: | Easy to grow any pots and planters |


Seed Germination Guide
Before sowing seeds, the first step is to dig out the soil and add organic fertilizer and manure in the proportion of 50% soil ,20% peat moss or 30% vermicompost and mix the mixture well. Once the above-mentioned step is done, please moisturize the soil.
Sprinkle the seeds and little water and cover the seeds with soil/ wet newspaper/ tissue. Keep on checking the soil after every two days and if you feel that the soil is getting dry then keep sprinkling water. After a week or 10 days, seeds will start germinating.
 Caring Tips for Amaranth Flower Seed
When the plant grows to the height of 2" separate each plant be careful for the soil.

At the time of separation remove the plant with the soil, remember that roots should not damage.

After removing plants, replant them at a gape of 4" to 5".

After replanting, water them.

Within 20 days feed the plants with organic manure vermicompost and fertilizer.

At the time of budding use N.P.K 19.19.19 fertilizer and reduce the watering cycle.

Follow these steps, enjoy beautiful flowers and blissful growth in the plant 
Special Feature Of Amaranth Flower Seed
Growing temperature: 10 to 25 degree Celsius
Plant height: 2 to 3 feet
Watering: thrice a week in evening 
Sunlight: full sun and shading place
Growing container: gardening pots, planters, garden fields and borders etc.
Growing soil: use normal gardening soil
Manure use: organic manures, fertilizers N.P.K. or cow dung etc.